Lisfranc Fracture-Dislocation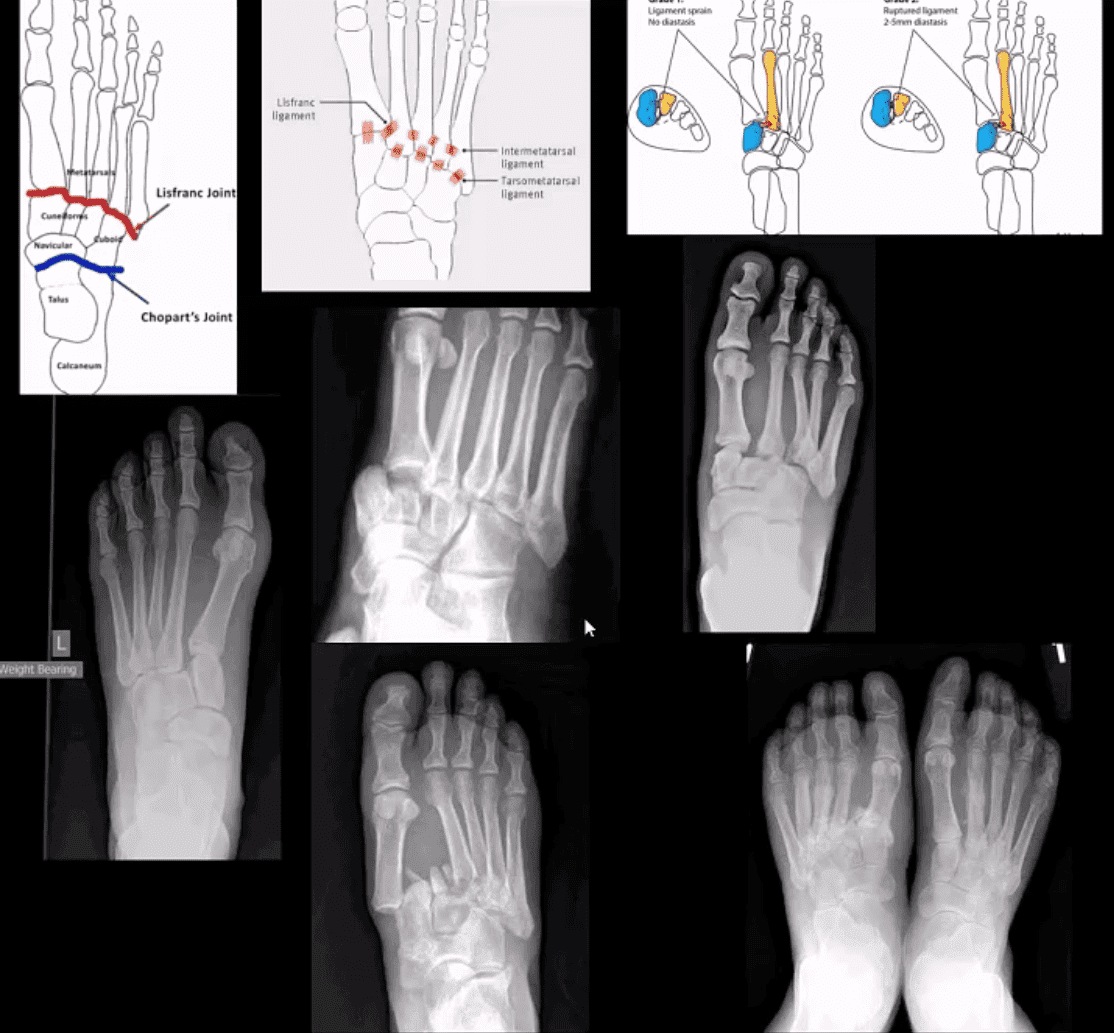 M/C dislocation of the foot at tarsal-metatarsal articulation (Lisfranc joint). Direct impact or landing and plantar or dorsal flexing the foot. Lisfranc ligament holding 2nd MT base and 1st Cu is torn. Manifests with or w/o fracture-avulsion.
Imaging: 1st step: foot radiography in most cases sufficient to Dx. MSK US may help: show disrupted Cu1-Cu2. Ligament and widened space > 2.5mm. MRI may help but not essential. Weight-bearing view aids Dx.
2-types: homolateral (1st MTP joint in contact) and divergent (2-5 MT displaced laterally and 1st MT medially)
Management: operative fixation is crucial
N.B. Atraumatic Lisfranc dislocation is a frequent complication of a diabetic Charcot foot
Osteochondral Injury of the Talus (OCD)
Common. Non-traumatic found in superior-medial talar dome. Traumatic may affect supero-lateral dome.
Clinically: pain/effusion/locking. Imaging is crucial.
1st step: radiography may reveal focal radiolucent concavity/halo, fragment.
MRI helpful esp. if OCD is cartilaginous and to demonstrate bone edema.
Management: non-operative: short-leg cast/immonbilization-4-6 wk. operative: arthrocsopic removal.
Complications: premature 2nd DJD
Metatarsal Injuries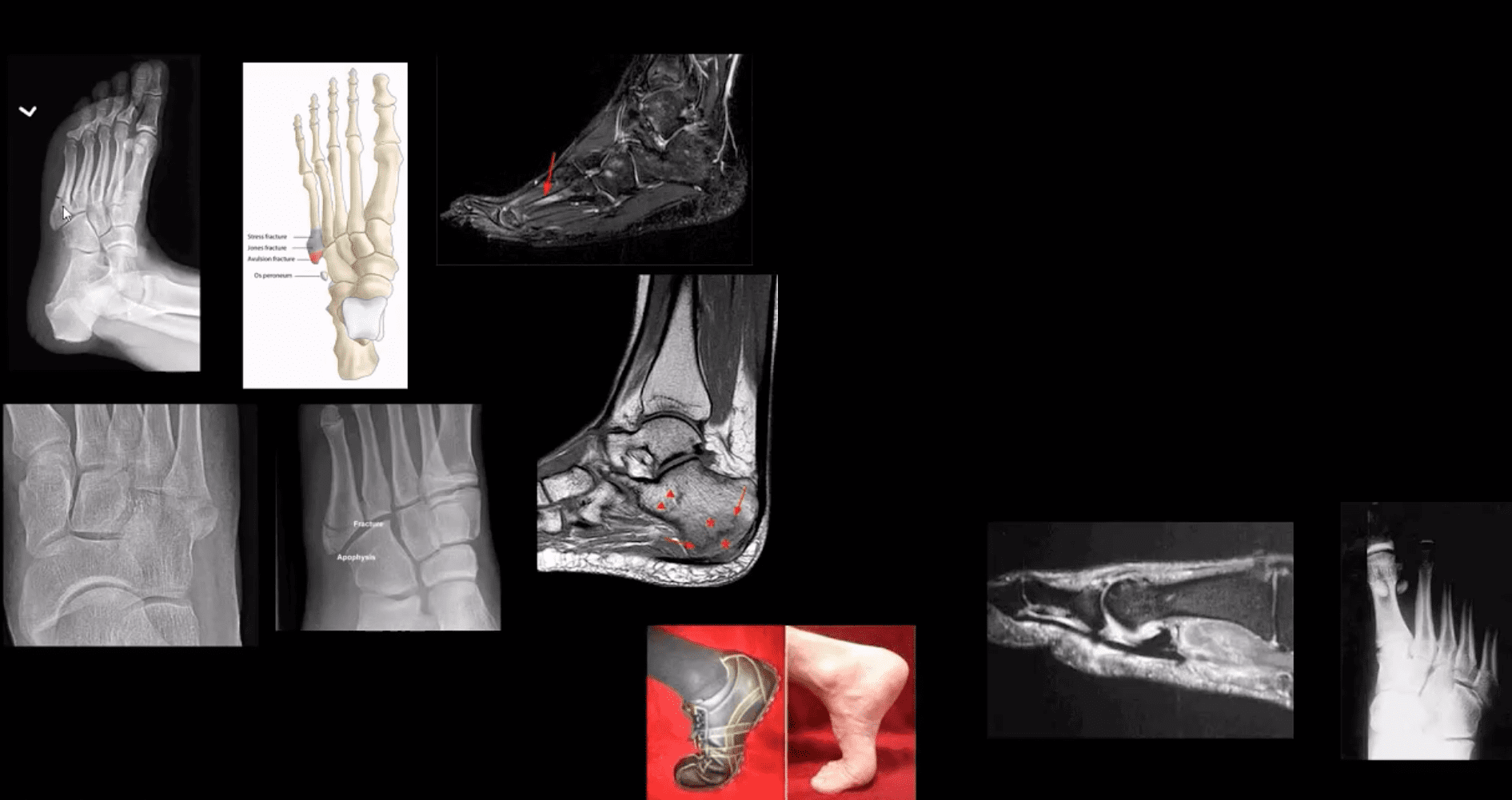 Acute & Stress fractures are common: m/c 5th MT & 2nd, 3rd MT.
Jones Fx: extra-articular Fx of proximal metaphysis of the 5th MT. Prone to non-union. Often fixed operatively.
Pseudo-Jones: intra-articular avulsion of 5th MT styloid/base by eccentric contraction of Peroneus Brevis M. Managed conservatively: boot-cast immobilization. Both Jones & Pseudo-Jones Dx by foot series radiography.
Stress Fx. Calcaneus, 2nd, 3rd, 5th MTs. Repeated loading (running) or "March foot" 2nd/3rd MT. Clinically: pain on activity, reduced by rest. Dx: x-rays often unrewarding earlier. MRI or MSK US may help. Managed: Conservatively. Complications; progress into complete Fx
Turf toe: common athletic hyperextension of 1st MTP-sesamoid/plantar plate complex is tearing. 1st MTP unstable/loose. Managed operatively.
Arthritis of the Foot & Ankle
DJD of the ankle: uncommon a primary OA. Typically develops as 2nd to trauma/AVN, RA, CPPD, Hemophilic arthropathy, Juvenile Idiopathic Arthritis, etc. manifests as DJD: osteophytes, JSL, subchondral cysts all seen on x-rays
Inflammatory Arthritis: RA may develop in the ankle or any synovial joint. Will typically presents with symmetrical Hands/feet RA initially (2nd, 3rd MCP, wrists, MTPs in feet) usually with erosion, uniform JSL, juxta-articular osteopenia, and delayed subluxations.
HLA-B27 spondyloarthropathies: commonly affect lower extremity: heel, ankle esp in Reactive (Reiter). Erosive-productive bone proliferation is a crucial Dx.
Gouty Arthritis: common in the lower extremity. Ankle, mid-foot foot esp 1st MTPs. Initial onset: acute gouty arthritis with ST effusion and no erosions/tophi. Chronic tophaceous gout: peri-articular, intra-osseous punched-out erosions with over-hanging edges, no initial JSL/osteopenia, ST. Tophi may be seen.
Miscellaneous arthropathy: PVNS. Not common. Affects 3-4th decades of life. The result of synovial proliferation with Macrophages and multi-nucleated Giant Cells filled with hemosiderin and fatty accumulation may lead to inflammation, cartilage damage, extrinsic bone erosions. Dx: x-rays are insensity, MRI modality of choice. Synovial biopsy. Management: operative, can be difficult.
Neuropathic Osteoarthropathy
(Charcot's joint) Common and on the rise d/t epidemic in type 2 DM. May present with pain initially (50% of cases) and painless destructive arthropathy as a late manifestation. Early Dx: delayed. Imaging is crucial: x-rays: initially unrewarding, some SF effusion is seen. MRI helps with early Dx and extremity off-loading. Late Dx: irreversible dislocations, collapse, disability. Note: Lisfrance dislocation in Charcot joint
M/C mid-foot (TM joint) in 40% of cases, ankle 15%. Progression: Rocker-bottom foot, ulcerations, infections, increased morbidity, and mortality.
Early Dx: by MRI is crucial. Suspect it in patients with type 2 DM especially if early non-traumatic foot/ankle pain reported.
Ankle & Foot Imaging
Advanced Chiropractic & Wellness Authority ⚕ Healthcare Educator • Injury, Sciatica Specialist • 915-850-0900 📞
We Welcome You 👊🏻.
Purpose & Passions: I am a Doctor of Chiropractic specializing in progressive, cutting-edge therapies and functional rehabilitation procedures focused on clinical physiology, total health, practical strength training, and complete conditioning. We focus on restoring normal body functions after neck, back, spinal and soft tissue injuries.
We use Specialized Chiropractic Protocols, Wellness Programs, Functional & Integrative Nutrition, Agility & Mobility Fitness Training and Cross-Fit Rehabilitation Systems for all ages.
As an extension to effective rehabilitation, we too offer our patients, disabled veterans, athletes, young and elder a diverse portfolio of strength equipment, high-performance exercises and advanced agility treatment options. We have teamed up with the cities premier doctors, therapist and trainers to provide high-level competitive athletes the possibilities to push themselves to their highest abilities within our facilities.
We've been blessed to use our methods with thousands of El Pasoans over the last three decades allowing us to restore our patients' health and fitness while implementing researched non-surgical methods and functional wellness programs.
Our programs are natural and use the body's ability to achieve specific measured goals, rather than introducing harmful chemicals, controversial hormone replacement, un-wanted surgeries, or addictive drugs. We want you to live a functional life that is fulfilled with more energy, a positive attitude, better sleep, and less pain. Our goal is to ultimately empower our patients to maintain the healthiest way of living.
With a bit of work, we can achieve optimal health together, no matter the age or disability.
Join us in improving your health for you and your family.
It's all about: LIVING, LOVING & MATTERING! 🍎
Welcome & God Bless
EL PASO LOCATIONS
Central:
6440 Gateway East, Ste B
Phone: 915-850-0900
East Side:
11860 Vista Del Sol, Ste 128
Phone: 915-412-6677