The hip is a ball-and-socket joint composed of the head of the thigh bone, or femur, which acts as the ball and fits into the round socket of the hip bone, or acetabulum. The neck of the femur is located under the ball of the hip joint. Stress fractures to the femoral neck can entirely or partially detach the femoral head from the rest of the femur.
Femoral neck stress fractures can be either displaced, where the bone is transferred out of its normal position, or non-displaced, where the bone remains stable. These fractures may interrupt blood flow to the portion of the broken bone. In recovery, the blood supply prevents severely displaced femoral neck stress fractures from healing correctly.
Causes and Symptoms of Femoral Neck Stress Fractures
Femoral neck stress fractures can result due to: a small slip-and-fall accident or twisting of the hip in older adults, osteoporosis, a high-impact injury, such as from an automobile accident, and sudden strenuous physical activity or changes in physical activity in younger individuals unaccustomed to the events, including from sports injuries. 
The symptoms of femoral neck stress fractures generally include: pain and discomfort, radiating pain which extends to the knee, inability to bear weight on the affected lower extremity, shortening or sideways rotation of the leg, increased pain in the hip during the rotation of the leg, and inflammation on the side of the hip with the femoral neck stress fractures.
Diagnosis and Treatment of Femoral Neck Stress Fractures
A healthcare professional will diagnose femoral neck stress fractures based on the causes and symptoms of the health issue, followed by clinical evaluation. Many doctors order x-rays to diagnose femoral neck stress fractures. The doctor may also order magnetic resonance imaging, or MRI, and computer tomography, or CT, scanning for a better diagnosis.
Treatment for femoral neck stress fractures depends on the patient's age as well as on the extent of the broken bone. Treatment for femoral neck stress fractures may include bed rest for several days followed by a physical rehabilitation program. A healthcare professional may prescribe drugs and/or medications to relieve pain, prevent blood clots and treat infection.
Many femoral neck stress fractures are treated through surgical interventions. Surgery for femoral neck stress fractures involves hip pinning if the bone is minimally displaced and the patient has enough bone density. The surgeon performs this by making a small incision and then inserting several screws to stabilize the bones which are broken.
Hip hemiarthroplasty or partial hip replacement is utilized for displaced fractures where the surgeon will replace the femoral head with a metal implant. The socket is not replaced in a partial hip replacement procedure. For total hip replacement, the surgeon will replace the socket of the hip joint, as well as the femoral head, with artificial metallic implants.
Femoral neck stress fractures are hip injuries which occur just below the femoral head, or the ball-and-socket hip joint. This area of the thigh bone, or femur, is known as the femoral neck. Femoral neck stress fractures happen when the ball is disconnected from the rest of the femur, or thigh bone. Treatment for this health issue includes rest and physical rehabilitation.

Dr. Alex Jimenez D.C., C.C.S.T.
Conclusion
Femoral neck stress fractures occur in the hip area below the ball-and-socket joint of the hip. A healthcare professional will suggest treatment based on the severity of the femoral neck stress fractures and the patient's age. The scope of our information is limited to chiropractic as well as to spinal injuries and conditions. To discuss the subject matter, please feel free to ask Dr. Jimenez or contact us at 915-850-0900 .
Curated by Dr. Alex Jimenez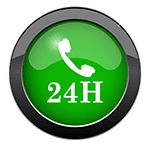 Additional Topics: Chiropractic for Athletes with Back Pain
Back pain is one of the most prevalent causes of disability and missed days at work worldwide. Back pain is the second most common reason for doctor office visits, outnumbered only by upper-respiratory infections. Approximately 80 percent of the population will experience back pain at least once throughout their life. The spine is a complex structure made up of bones, joints, ligaments, and muscles, among other soft tissues. Because of this, injuries and/or aggravated conditions, such as herniated discs, can eventually lead to symptoms of back pain. Sports injuries or automobile accident injuries are often the most frequent cause of back pain, however, sometimes the simplest of movements can have painful results. Fortunately, alternative treatment options, such as chiropractic care, can help ease back pain through the use of spinal adjustments and manual manipulations, ultimately improving pain relief.
Advanced Chiropractic & Wellness Authority ⚕ Healthcare Educator • Injury, Sciatica Specialist • 915-850-0900 📞
We Welcome You 👊🏻.
Purpose & Passions: I am a Doctor of Chiropractic specializing in progressive, cutting-edge therapies and functional rehabilitation procedures focused on clinical physiology, total health, practical strength training, and complete conditioning. We focus on restoring normal body functions after neck, back, spinal and soft tissue injuries.
We use Specialized Chiropractic Protocols, Wellness Programs, Functional & Integrative Nutrition, Agility & Mobility Fitness Training and Cross-Fit Rehabilitation Systems for all ages.
As an extension to effective rehabilitation, we too offer our patients, disabled veterans, athletes, young and elder a diverse portfolio of strength equipment, high-performance exercises and advanced agility treatment options. We have teamed up with the cities premier doctors, therapist and trainers to provide high-level competitive athletes the possibilities to push themselves to their highest abilities within our facilities.
We've been blessed to use our methods with thousands of El Pasoans over the last three decades allowing us to restore our patients' health and fitness while implementing researched non-surgical methods and functional wellness programs.
Our programs are natural and use the body's ability to achieve specific measured goals, rather than introducing harmful chemicals, controversial hormone replacement, un-wanted surgeries, or addictive drugs. We want you to live a functional life that is fulfilled with more energy, a positive attitude, better sleep, and less pain. Our goal is to ultimately empower our patients to maintain the healthiest way of living.
With a bit of work, we can achieve optimal health together, no matter the age or disability.
Join us in improving your health for you and your family.
It's all about: LIVING, LOVING & MATTERING! 🍎
Welcome & God Bless
EL PASO LOCATIONS
Central:
6440 Gateway East, Ste B
Phone: 915-850-0900
East Side:
11860 Vista Del Sol, Ste 128
Phone: 915-412-6677