Neuroembryology: As an embryo all of the cells in the body are identical. But as time passes, some cells develop into neurons and others develop into skin, hair, or muscle cells.
Why do some cells become neurons? How do neurons become organized in the spinal cord and brain in order to allow us to walk, talk, see, recall life events, feel pain, keep balance, and think?
The answers will help us understand how we develop from an embryo into a full-grown person and how our body and brain constantly adapts, throughout our lives to the environments changes.
El Paso, TX. Chiropractor, Dr. Alexander Jimenez discusses neuroembryology, with the intent of educating patients, past and present, and the general public about the how the spine is connected to everything and where everything begins.
INTRODUCTION
Focusing attention on the development of the nervous system can increase a clinician's insight into brain functionality and treatment possibilities.
Dysfunctions that may be associated with developmental abnormalities of the brain may range from a mild reduction in cortical function to conditions such as autism and schizophrenia.
The development of the nervous system is influenced by both endogenous and exogenous mechanisms.
Endogenous referring to genetics, exogenous referring to the embryo's environment.
Development is an ongoing process….NEUROPLASTICITY
Neuroembryology: DEVELOPMENT
Development of the nervous system can first be identified at about 3 weeks after conception.
At 3 weeks, in response to underlying chemical signaling from the mesoderm, the neural plate forms, which quickly transitions into the neural groove.
At the beginning of the 4th week, the two folds forming the neural groove begin to fuse starting the formation of the neural tube
Fusion proceeds cranially and caudally and the entire neural tube is closed by the end of the 4th week.
This process is known as primary neurulation.
As the neural tube closes, it progressively separates from the ectodermal surface and leaves behind neural crest cells.
Neural crest cells develop into the PNS.
The neural tube develops into virtually the entire CNS.
A longitudinal groove forms on the lateral wall of the neural tube during the fourth week of development
This is known as the sulcus limitans, which separates the tube into dorsal and ventral halves.
The gray matter of the dorsal half forms an alar plate and the ventral half forms a basal plate.
This distinction is of great functional importance because the alar plate plays a role in sensory processing and the basal plate plays a role in motor output.
This similarity is seen in the adult spinal cord with the posterior gray matter receiving sensory input and the anterior gray matter producing motor output.

THREE PRIMARY VESICLES
Prosencephalon
Mesencephalon
Rhombencephalon
FIVE SECONDARY VESICLES
Telencephalon
Diencephalon
Mesencephalon (remains unchanged)
Metencephalon
Myelencephalon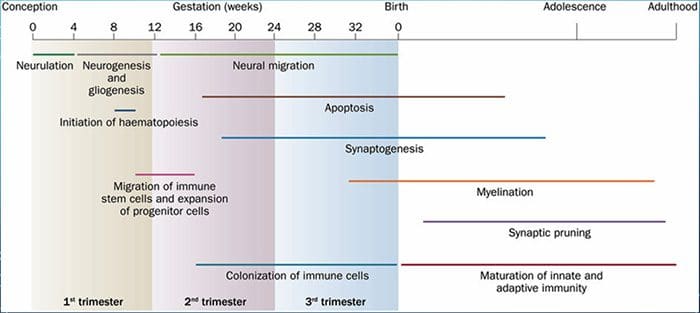 ESTABLISHMENT OF NEURONAL CONNECTIONS
Neurons may have innate predetermined programs that lay out the basic patterns of connections to be formed initially in their development.
Theoretically, neurons gravitate to areas of attraction and move away from areas of repulsion – Chemoaffinity hypothesis
Several mechanisms allow axons to accurately find their way to their target destinations:
Selective axonal fasciculation
Axon substrate interactions
Axonal tropisms
Gradient effects
SYNAPTOGENESIS
The formation of synapsis between neurons.
This is VERY important during the embryological development for good neuronal growth
Based on the laws of plasticity, if you don't use it, you will lose it (or never really get it).
NEUROPLASTICITY
There is both good and bad plasticity.
Good plasticity is adaptation to positive environmental stimulation.
Bad plasticity can be related to insult or injury to the nervous system or chronic pain pathways.
WHEN THINGS DON'T GO AS PLANNED!
CLINICAL SIGNIFICANCE OF NEURODEVELOPMENT
By RYAN CEDERMARK, DC DACNB RN BSN MSN
Neuroembryology: Prenatal Brain Development
Neuroembryology: Development Of  Nervous System
Chiropractor & Functional Medicine Practitioner ⚕Injury & Sciatica Specialist • Author • Educator • 915-850-0900 📞
We Welcome You 👊🏻.
Purpose & Passions: I am a Doctor of Chiropractic specializing in progressive, cutting-edge therapies and functional rehabilitation procedures focused on clinical physiology, total health, practical strength training, and complete conditioning. We focus on restoring normal body functions after neck, back, spinal and soft tissue injuries.
We use Specialized Chiropractic Protocols, Wellness Programs, Functional & Integrative Nutrition, Agility & Mobility Fitness Training and Rehabilitation Systems for all ages.
As an extension to effective rehabilitation, we too offer our patients, disabled veterans, athletes, young and elder a diverse portfolio of strength equipment, high-performance exercises and advanced agility treatment options. We have teamed up with the cities premier doctors, therapist and trainers to provide high-level competitive athletes the possibilities to push themselves to their highest abilities within our facilities.
We've been blessed to use our methods with thousands of El Pasoans over the last three decades allowing us to restore our patients' health and fitness while implementing researched non-surgical methods and functional wellness programs.
Our programs are natural and use the body's ability to achieve specific measured goals, rather than introducing harmful chemicals, controversial hormone replacement, un-wanted surgeries, or addictive drugs. We want you to live a functional life that is fulfilled with more energy, a positive attitude, better sleep, and less pain. Our goal is to ultimately empower our patients to maintain the healthiest way of living.
With a bit of work, we can achieve optimal health together, no matter the age or disability.
Join us in improving your health for you and your family.
It's all about: LIVING, LOVING & MATTERING! 🍎
Welcome & God Bless
EL PASO LOCATIONS
Central:
6440 Gateway East, Ste B
Phone: 915-850-0900
East Side:
11860 Vista Del Sol, Ste 128
Phone: 915-412-6677