Exercise for Overall Health & Its Importance
Incorporating exercise into our days helps augment and manage our health, fitness, and wellness, primarily because of its ability to balance the levels of insulin within the body. Insulin is a hormone produced by the pancreas which triggers the body to use sugar, or glucose, from carbohydrates in the food we eat to produce energy as well as store glucose for future use. Another major benefit of participating in regular physical activity is its capacity to boost the immune system. Exercising can alter the function in antibodies and white blood cells where these begin to circulate quicker to detect illnesses rapidly.
Physical exercise can also help reduce stress because it boosts the production of endorphins in the brain, neurotransmitters in charge of making you feel good. Other great benefits of exercise include weight control and improved eating habits, increasing good cholesterol, HDL, in the body and decreasing triglyceride levels, which can increase the risk of heart disease. Regular physical activity can help prolong life as it reduces the risk of heart attack and stroke and improves and promotes a good sense of well-being. Exercises specifically focused toward strengthening musculoskeletal weaknesses and imbalances can enhance and speed up the recovery process for individuals who've suffered an injury and have started medical treatment.
Viewing exercise as a necessary part of your day can help many people build a habit to exercise. Making an exercise schedule can ideally be a good way to keep it in track. The good thing about exercise is that there are a wide variety of types, some which can be done in a minimum amount of time while still providing maximum results.
Special Clinic News & Events
Mar 5, 2018
12:00PM - 1:00PM
EXTRA! EXTRA! "GREAT NEWS" GRAND OPENING !!
GRAND OPENING !!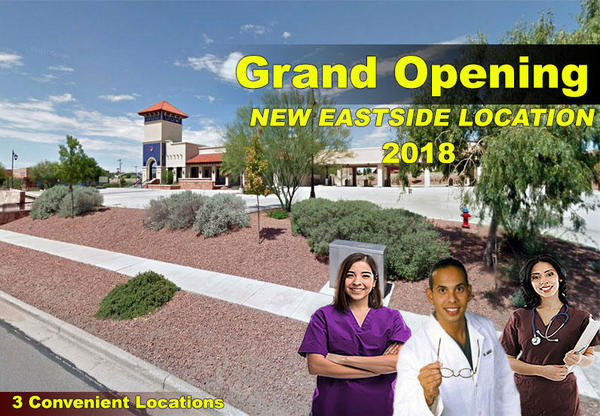 We are all excited to bring El Paso our new Chiropractic Functional Wellness Clinic. Thank you El Paso !
Exercise is beneficial for people of all ages as it enhances and maintains overall health, physical fitness, and wellness. Following a regular exercise routine as part of your lifestyle can offer your body tremendous benefits. However, in today's world, many people struggle to find the appropriate opportunity during their busy schedules to participate in physical activities. It's crucial to keep in mind though that exercise should be just as important for an individual's day as eating, sleeping, and breathing.
Attaining Overall Health Naturally
If you're a person with a sedentary lifestyle, exercising more will bring many benefits for improving your health. Engaging in physical activity helps burn calories, preventing excess weight gain and supports weight loss. Exercise also stimulates several chemical reactions in the brain that can boost your mood as well as relieve stress, making you feel happier and more relaxed. In case you have a busy schedule, including physical activity into your day can be simple, for example, instead of using the elevator, consider taking the stairs. You will burn more calories this way and ultimately improve your health. Also, walking more often can be a great way to add exercise into your routine. When picking a parking space at work or when stopping at the grocery store, choose a distant spot from the door, this way you will walk more and get some physical activity into your day.
Following a balanced nutrition is also a great way to improve your health. Adding more quality food into your diet, such as fresh fruits and vegetables, as well as reducing the amount of processed foods you consume will benefit your overall wellness. A proper diet together with an exercise routine can help maintain a healthy weight. Eating vitamin and mineral rich foods while avoiding fats, sugars, and salts can help avoid heart disease and hypertension from developing. It's important to also reduce your intake of caffeine and sugar. While both caffeine and sugar can provide instant highs of energy, the effects are only temporary and can often lead to a crash in mood and energy. By reducing the amount of coffee, soft drinks, chocolate, and sugary snacks from your diet, you will feel more relaxed and avoid any unnecessary energy crashes. Proper nutrition is essential to improve and maintain your health.
Hydration, along with a good diet and physical activity, is also very important for your health. Drinking the appropriate amount of water necessary for each individual has many benefits on the body. Most importantly, the body requires water for the majority of its functions and without proper hydration, the body may not function to its fullest capacity. Water can also assist with weight loss. Try to increase your water intake throughout your day, by substituting a sugary beverage for water at least once. For individuals who don't favor plain water, consider adding lemons or limes to enhance the flavor. You can also try eating more water-rich foods such as watermelon, which is 92% water.
And last but not least, make sure you're getting good quality rest. Sleeping should be a top priority when it comes to achieving your optimal health, fitness, and wellness goals as it has many benefits for the body. Getting proper rest improves your mood and can also assist in weight loss. When there is a lack of sleep, the body produces a hormone called leptin which plays a key role in making you feel full. For people who don't get enough sleep, the levels of leptin drop and you can feel hungrier throughout your day.  In order to receive the appropriate amount of rest you need, make sure to keep a consistent sleep and wake schedule, including on weekends. Lack of sleep can also cause mental, emotional, and physical fatigue. It's also essential to sleep properly as your body carries out the greatest amount of healing and regeneration during sleep.
In order to live to our fullest capabilities, its important to follow a healthier lifestyle although achieving this can often be difficult for many individuals whom don't know the proper ways to maintain optimal health, fitness, and wellness. With a couple of lifestyle modifications, you can enhance your life to maintain your health and make the best of your well-being.

Five Exercise Tips for Maintaining Health
One of the most important exercise tips for chiropractic patients is to take steps to keep your body in alignment as you move through your day. Good practices combined with solid exercises creates toned muscles that protect the body and spine from harm.
Your chiropractor will work with you to design an exercise program that is optimal for you. Be sure to follow through with the plan and include these tips in your regular work out to experience the joy of healing from chiropractic care.
In the workplace, check with an ergonomics consultant to ensure proper positioning, especially if you spend most of the day seated or doing repetitive tasks. A comfortable chair reduces muscle strain and prevents injury. Make sure that your feet sit firmly on the floor and that lumbar support is in place. At home, you should have a good mattress and supportive furniture. Before starting any exercises, it's important to warm up. A series of dynamic moves will boost your heart rate and heat up the muscles that you will be using during your work out. Finally, it is important to target large muscle groups with passive exercises.
Exercise is essential towards maintaining optimal health, fitness, and wellness. For individuals who've experienced an injury or condition, pairing up chiropractic care with an appropriate set of physical activities recommended by a medical specialist can ultimately help improve symptoms and maintain overall wellness.
By Dr. Alex Jimenez
Check Out More Testimonials Over At Our Facebook Page!
Check Out Our Blog Regarding Physical Rehabilitation
Physical therapists (PT's) are healthcare professionals who treat patients of all ages with back or neck ailments. Your spine surgeon, physiatrist, orthopaedist, primary care physician, or neurosurgeon may refer you to a physical therapist as portion of your non-operative plan of treatment. An organized physical therapy plan may be an intrinsic portion of your after-care following back surgery. PT's practice in a variety of settings for example hospitals, outpatient clinics, rehabilitation centers, and nursing homes.
read more
Physical therapy can help seniors retain their independence, whether they are managing a long-term illness or just want to improve their general health and mobility.
The goal of physical therapy is to help restore and improve functionality, reduce pain and increase mobility for better strength and balance.
Falls are the major reason seniors require physical therapy.
As people age, they tend to lose flexibility, strength and often their balance, so maintaining the desired level of fitness becomes increasingly challenging. Loss of these functions could lead to a fall that could cause serious injury. Physical therapy helps improve these functions.
Osteoporosis, which is a progressive bone disease characterized by a decrease in bone mass and density, can lead to an increased risk for fractures. It is often the cause of many falls. Physical therapy and a regular exercise program help control the effects of this condition.
Strength training and exercise provided in physical therapy can also help alleviate the symptoms of arthritis. People with arthritis can benefit from physical therapy because it provides exercises to help preserve the strength and use of the joints. Physical therapy also teaches therapeutic methods to relieve discomfort through both physical techniques and activity modifications.
Physical therapy is prescribed in many cases following a hospital stay. Skimping on post hospitalization therapy can cause serious repercussions.
read more
El Paso Back Clinic: Central
6440 Gateway East Bldg. B
915-850-0900
(Next To Guitar Center)
El Paso Back Clinic: Eastside
11860 Vista Del Sol, Suite 128
El Paso, Tx 79935
915-850-0900
(Mission Plaza)
Spine Injury Clinic & PUSH Rehabilitation Center
6440 Gateway East Bldg B, El Paso, TX 79905
Dr. Alex Jimenez DC , Injury Medical & Chiropractic Clinic
PUSH Fitness & Athletic Training 24/7
Special Events & Announcements