Pyogenic Spinal Infection
aka Spondylodiscitis and vertebral osteomyelitis overall are relatively infrequent and may present with bimodal distribution: children and adults >50's
Occasionally considered as two separate entities due to variations in the blood supply of pediatric vs. adult spines
Risk factors/causes: distant site of infection in the body (25-35%), e.g., oropharynx, urogenital infections, bacterial endocarditis, indwelling catheters, florid skin infections furunculosis/abscess, etc.
Iatrogenic: operative (e.g., discectomy) interventional or diagnostic/therapeutic procedures
Penetrating trauma
Immunocompromised patients
Diabetics
Malnourished patients or patients with low protein
IV drug users
Chronic disease patients, cancer patients etc.
Potential Pathological Sequence
Clinical Presentation
Back pain with or w/o high fever and other "septic" signs. Fever may only present in 50% of children
Exacerbation of pre-existing back pain in post-surgical cases
Neurological complications in advanced cases of vertebral destruction and epidural abscess
Meningitis, septicemia etc.
Labs: Blood tests are unspecific, may or may not indicate elevated ESR/CRP, WBC
Diagnostic imaging is important but
If clinical suspicion is strong, prompt I.V. antibiotics are needed to prevent serious complications
Routes of Infection
Infection routes to the spine are similar to bone in general
3-distinct routes:
1) Hematogenous spread as bacteremia (most common)
2) Adjacent site of infection (e.g., soft tissue abscess)
3)Direct inoculation (e.g., iatrogenic or traumatic)
M/C organism Staph. Aureus
Mycobacterium TB (tuberculous spinal osteomyelitis) aka Pott's disease can be presented in cases of re-activated or disseminated pulmonary TB
Mechanisms of Spinal Infection
May vary depending on the patients' age
In children, the IVD receives direct blood supply and can be infected directly spreading to adjacent bone and causing spondylodiscitis
In Adults
The disc is avascular
Pathogens invade adjacent vertebral end-plates via end-arterial supply of the vertebral body that may facilitate infection due to slow, turbulent flow
Organisms may then quickly gain access to disc substance rich in nutrients (discitis) often w/o significant initially visible destruction to the bone
Thus, one of the earliest rad. findings of spinal infection or sudden reduction of disc height
Later end-plate irregularity/sclerosis may develop, subsequently affecting the entire adjacent vertebral bodies
Diagnostic Imaging
Initially, in most cases of MSK complaints, radiography is the 1st imaging step
Initially, X-radiography is often unrewarding and may appear unremarkable for 7-10 days or presents with some subtle soft tissue changes (e.g., obscuration of Psoas shadows etc.)
Some of the earliest x-ray signs of pyogenic spondylodiscitis: sudden reduction of disc height (above arrow) during initial 7-10 days
Subsequently (10-20 days) some end-plate irregularity and adjacent sclerosis may be noted
In more advanced cases, subsequent vertebral destruction and collapse may occur
N.B. Reliable feature to DDx between spinal infection and metastasis is the preservation of disc height in the latter
Discitis
Discitis needs to be DDx from DDD (spondylosis)
An important DDx between discitis and DDD is lack of osteophytes (spondylophytes) and intradiscal gas (vacuum phenomenon) in DDD.
Presence of intradiscal gas (vacuum phenomenon) virtually excludes discitis (except if gas-forming pathogens are involved)
Note: sudden disc narrowing with no appreciable spondylosis (above the first image) is suspicious for infection (discitis)
MRI +C is required to evaluate suspected infection
N.B. 50-60% of pyogenic spondylodiscitis occur in the lumbar region
AP & Lateral Lumbar Radiographs
Note severe disc narrowing and adjacent vertebral body destruction at L1-L2 in a 68 -y.o.-female with a known Hx of type 2 DM
Additional imaging modalities should be used to support the Dx
Final Dx: Pyogenic Spondylodiscitis
Sagittal T1 & T2 MRI
Weighted MRI slices of a patient who had laminectomy at L4
MR imaging with gad contrast is the modality of choice for Dx of spinal infection
Early septic changes affecting the disc and adjacent vertebral end-plates are readily demonstrated as a low signal on T1 and high T2/STIR d/t edema and inflammation
T1 FS +C gad images show avid enhancement of the lesion due to granulation tissue around the phlegmon. Peripheral enhancement is also characteristic of an abscess.
Epidural extension/abscess can also be successfully detected my MRI
N.B. 50% of epidural abscess cases present with neurological signs
STIR & T1 FS +C Gad Sagittal MRI
Marked septic collection and edema affecting L4-5 disc and vertebral body with some epidural extension and paraspinal soft tissue edema. Avid contrast enhancement is noted surrounding low signal foci within the bone and disc tissue, some gad. Enhancement is noted in posterior paraspinal muscles and dural spaces
Management: Dx of spondylodiscitis requires prompt I.V antibiotics. If instability and neurological complications develop referral to a Neurosurgeon is required
MRI Unavailable or Contraindicated
Bone scintigraphy is very sensitive but non-specific for spinal infection but overall is of great value d/t higher sensitivity than x-rays and relatively low cost.
An area of increased flow with radiopharmaceutical uptake is characteristic but not specific sign of spondylodiscitis
If neurological signs are present and MRI is contraindicated than CT myelography may be used
TB Osteomyelitis aka Pott's Disease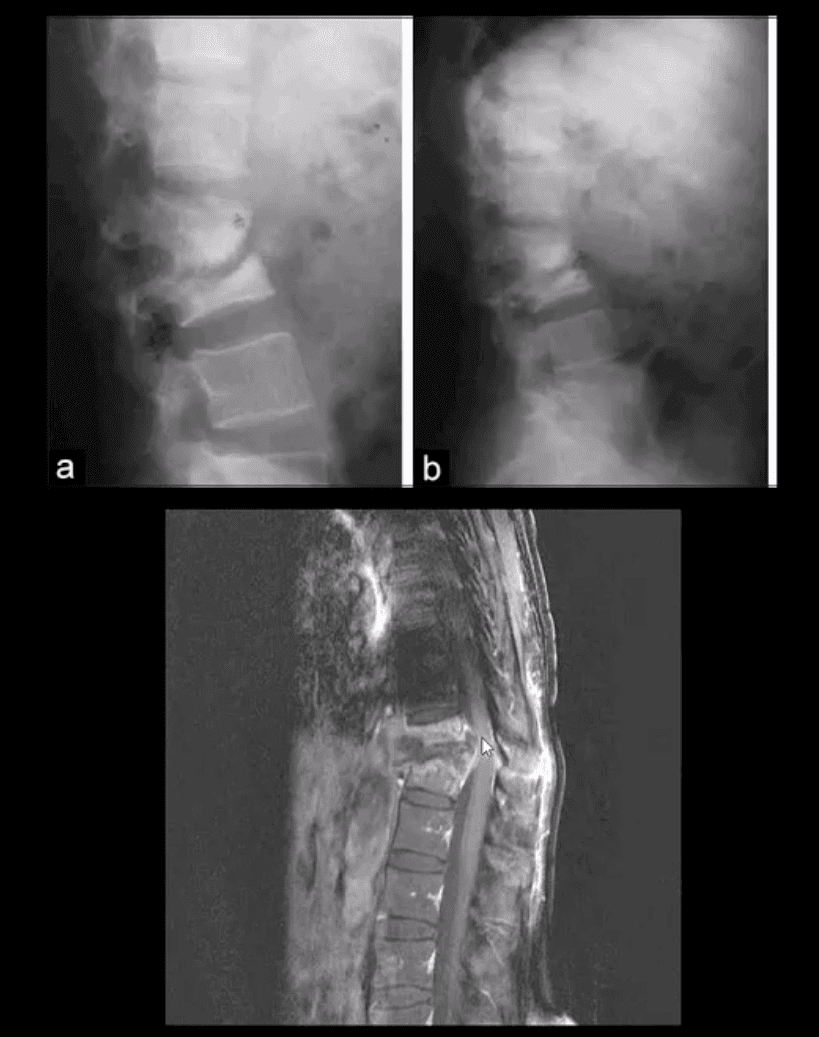 TB osteomyelitis is increasing d/t HIV and other immunocompromised states. Extrapulmonary TB m/c affects the spine and especially the thoracic spine (60%)
Radiographic Pathology: TB bacillus infects the vertebral body and often spreads subligamentously. "Cold" paraspinal abscess collection may develop and spreads along fascial planes, e.g., Psoas abscess. Disc spaces are preserved until v. late and skip areas are noted helping to DDx TB from pyogenic infection. Severe vertebral destruction aka Gibbus deformity may develop (>60-degree sometimes) and may become permanent. Neurologic and many regional complications may develop
Imaging approach: CXR with spinal x-rays 1st step that may be unrewarding but may potentially reveal VB destruction w/o disc narrowing. CT scanning is more superior than x-rays. MRI with gad C is a modality of choice
Management: isoniazid, rifampin, operative.
DDx: Fungal/Brucella infection, neoplasms, Charcot spine
Gibbus Deformity & Pott's Disease
Infection Of The Spine
Advanced Chiropractic & Wellness Authority ⚕ Healthcare Educator • Injury, Sciatica Specialist • 915-850-0900 📞
We Welcome You 👊🏻.
Purpose & Passions: I am a Doctor of Chiropractic specializing in progressive, cutting-edge therapies and functional rehabilitation procedures focused on clinical physiology, total health, practical strength training, and complete conditioning. We focus on restoring normal body functions after neck, back, spinal and soft tissue injuries.
We use Specialized Chiropractic Protocols, Wellness Programs, Functional & Integrative Nutrition, Agility & Mobility Fitness Training and Cross-Fit Rehabilitation Systems for all ages.
As an extension to effective rehabilitation, we too offer our patients, disabled veterans, athletes, young and elder a diverse portfolio of strength equipment, high-performance exercises and advanced agility treatment options. We have teamed up with the cities premier doctors, therapist and trainers to provide high-level competitive athletes the possibilities to push themselves to their highest abilities within our facilities.
We've been blessed to use our methods with thousands of El Pasoans over the last three decades allowing us to restore our patients' health and fitness while implementing researched non-surgical methods and functional wellness programs.
Our programs are natural and use the body's ability to achieve specific measured goals, rather than introducing harmful chemicals, controversial hormone replacement, un-wanted surgeries, or addictive drugs. We want you to live a functional life that is fulfilled with more energy, a positive attitude, better sleep, and less pain. Our goal is to ultimately empower our patients to maintain the healthiest way of living.
With a bit of work, we can achieve optimal health together, no matter the age or disability.
Join us in improving your health for you and your family.
It's all about: LIVING, LOVING & MATTERING! 🍎
Welcome & God Bless
EL PASO LOCATIONS
Central:
6440 Gateway East, Ste B
Phone: 915-850-0900
East Side:
11860 Vista Del Sol, Ste 128
Phone: 915-412-6677